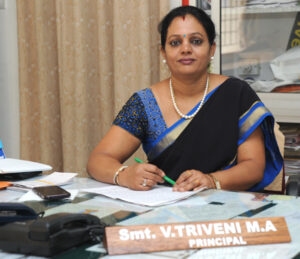 "While educating the minds of our youth, we must not forget to educate their heart"
Success comes to those who work hard and stays with those who don't rest on past laurels. Vivekananda PU College for Women started its journey in the year 2004 with the aim of providing education to girls and empowering them so that they can be financially independent, socially conscious, morally upright and emotionally balanced. Every girl who enters the VCW family is motivated and guided at every step in and outside the class room to become transformed and empowered in order to empower their own family and society, there by contributing towards an empowered nation and citizenship in the service of the country. Genuine concern of our institution is to ensure students emotional growth along with intellectual excellence. This empowers them to develop their self-esteem, self-awareness and self-confidence. Our student population is multi- cultural and multi-linguistic, hence we teach students, the importance of tolerance and respect for each other's language and culture. Discipline, values and integrity are the foundation of this Institution. Our vision is to produce conscientious, confident citizens of India who will go out into the world and make us proud. Come on, let's give our best and make this Institution a modern temple of learning through our diligence, devotion and dedication.
Wishing you all the best!!